Stylez White May Get Some Help Sunday
November 20th, 2010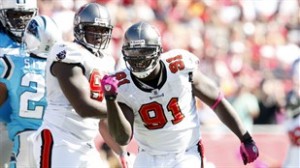 It saddens Joe that cool cat Stylez White is having a less than stellar season. Joe likes Stylez and Joe has gone over too many times why Stylez (and the defensive front as a whole) is struggling.
But Stylez may get a boost. Seems as though 49ers starting left tackle Joe Staley got banged up in the 49ers win over the Rams last week and that means little used Barry Sims, described as "less athletic," will likely start for Staley, so reports Daniel Brown of the San Jose Mercury-News.
Barry Sims, who might be called upon to protect Troy Smith's blind side, entered this season with his eyes wide open. The 12th-year veteran knew he was on the roster only as an insurance policy and was unfazed about spending his season wearing sweats instead of shoulder pads.

Sims spent eight of the 49ers' first nine games on the inactive list. But, starting Sunday at Candlestick Park, he could be as active as a lineman gets.

"It's just about being a pro," Sims said. "You're always one play away from being in there. As a pro you have to prepare yourself accordingly."
The Bucs could use any boost they can get against the mobile Smith. Joe doesn't think it's a coincidence that the 49ers have come back to life since Smith was inserted as San Francisco's newest treat.