"Still A Winnable Division"
November 28th, 2010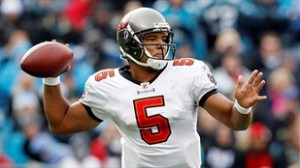 Josh Freeman didn't have the best of days. He manned up and shouldered much of the blame for the Bucs loss while being interviewed after the game on the Bucs radio network.
"The game didn't go as we wanted it to go. We didn't make the plays that we needed to win the game. Then we had to jump into the two-minute mode to try to get points on the board. We had drives stalled, unable to get into a rhythm, unable to get it done. It's unacceptable. We hurt ourselves. We were unable to sustain drives. When you play that poorly — myself — it's tough to win.
"[Baltimore was] just good out there. We didn't hit any of our shot plays. At the same time when the opportunities were available, we didn't take advantage of them.
"The execution in the fourth quarter has to be better and we have to find a way to win. We didn't do what we came out here to do. But it's still a winnable division."