Stephen Holder Talks About Mike Williams Arrest
November 19th, 2010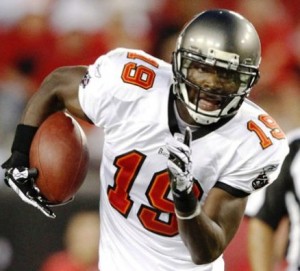 St. Petersburg Times Bucs beat writer good guy Stephen Holder appeared on "The Opening Drive" this morning to speak with co-hosts Andrew Bogusch and Peter King, heard exclusively on Sirius NFL Radio, and gave the duo an update into the Mike Williams DUI arrest.
Stephen Holder: Mike Williams is going to travel with the team this afternoon and will play and likely start. That may be for a couple of reasons; it's a little bit of a cloudy situation. His blood alcohol level was below the legal limit but he failed the field sobriety test. I'm going out on a limb a little but here, I'm taking some assumptions, that is why the team will let him play.
A urine test could mean a couple of things: If cops suspect something other than alcohol, they ask suspect to submit to a urine test to maybe try to find another way [to nail a suspect for DUI]. Only the officer on the scene can speak to that and he has not yet been cleared to speak with us.
Peter King: It's awfully hard not to jump to conclusions given his [college misdeeds].
Holder: He was weaving after drinking. Not smart.
King: With his collegiate rap sheet, you want to be clean.
Holder: He's a good kid. He does have a past that he is trying to live down. You are right, a mature kid is going to be smart about this and not give people a reason to look in his direction. He already has lost dearly over what happened in college. He slipped to the forth round. He lost millions. Doing the smart thing? This isn't it.
King: How will Raheem Morris handle this?
Holder: He needs to step up and be firm. Jerramy Stevens was arrested for possession of a considerable amount of marijuana and he was released a couple of days later. That won't be the case here. Stevens was on his last chance but Raheem took an opportunity to make a point. He needs to make a concerted effort to make a point here: Be smart. There has to be a constant with this team. They have to stay on them. They are young and they can think they are invincible. They need to know if you stay out late and not make smart decisions, [there are repercussions].
[Update: Contrary to Adam Schefter's Twitterings, at 10:20 a.m. TBO also reported that Williams will play per Bucs officials.]