Sims Out; Another Round For The New O-Line
November 5th, 2010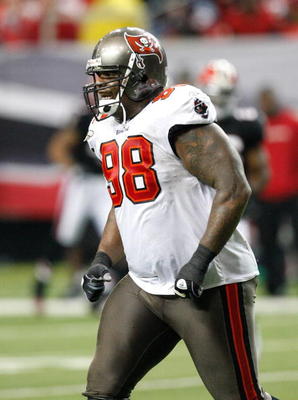 In a million years Joe never would have thought he'd be nervous because Ryan Sims was going to miss a game. But that's where Joe finds himself just a few hours before the start of iced cold beer time on this lovely Friday.
The Bucs announced today that Sims is out for Sunday, along with Jeff Faine, Jeremy Trueblood and Earnest Graham.
Brian Price is done for the year. Sims is on the shelf. Kyle Moore is a waste rushing inside. And the Bucs might rely on newcomer Alex Magee heavily in Atlanta, and possibly a little bit from defensive tackle Al Woods, who found his way to Tampa this week. Woods was a fourth-round pick in 2010 by the Saints but didn't make the team.
Don't worry too much, at least Barrett Ruud is patrolling the middle to help stuff the run. Oh, uhhh, skip that.
In his Passing On The Game blog, former Bucs DE Steve White shares a few thoughts on this new development along the D-line.
It's kind of ironic because I was just talking about why the loss of Brian Price to IR was so big the other day and now that Sims is going to be out people will get to see what I mean. That's not a knock on Alex Magee though. Actually I don't know much about him and I couldn't say how he will fit in with our defense until he gets some snaps. But I would say its pretty damn scary when you think about the fact that he and Al Woods now make up the second team defensive tackles even though neither have taken a snap for Tampa and both were recently learning how to play in a 3-4 rather than a 4-3 defense.

And yes, it DEFINITELY matters.

I don't know if both Magee and Woods will be up but even if they are I have a hard time believing that Woods would be able to learn the playbook quick enough to be ready to play meaningful snaps for the Bucs on Sunday. Magee on the other hand has been here for a few weeks so he should at least have some of it down pat. Its not like Sims was necessarily a world beater either but at least he knew where he was supposed to be on every play.
As for missing Trueblood and Faine for the second game in a row, Joe is very pleased that the O-line that had success in Arizona — Donald Penn, Ted Larsen, Jeremy Zuttah, Davin Joseph, James Lee — will get another shot together.
Joe believes they earned it, and trotting out a banged up Faine and/or Trueblood serves no purpose in the eighth game of the season.
If the Bucs continue to be successful along the O-line, Joe wonders if Trueblood and Faine would be accept backup roles in a team-first way.