Scary Bad Bucs Defense Played On Halloween
November 3rd, 2010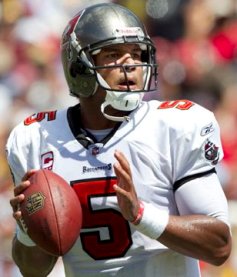 Joe was drunk with joy (and other liquids) following the Bucs thrilling win over the Cardinals Sunday. Part of that was Joe had to calm down he was so frightened.
No, this Steelers fan was not knocking on Joe's door looking for a treat. Joe was frightened beyond words that the Bucs gave up 305 yards passing to the likes of Max Hall and Derek Anderson of all people, and coughed up a 17-point lead.
Winning cures all ills but Joe is having a hard time getting that memory scrubbed from his brain. It seems this nasty image also left an impression upon Joe's good friend Justin Pawlowski of WDAE-AM 620.
Justin, who hosts the award-winning "Blitz" on Saturday afternoons, has gone of record suggesting the Bucs defense is not much different under Raheem Morris than it was under the heinous Jim Bates Experiment.
Sunday's showing seemed to reinforce Justin's thoughts of the Bucs defense, so he wrote in his weekly "What I Learned" column.
1. I learned that no lead is safe in a game involving the Buccaneers. We've seen the Bucs have to come back in the 4th quarter in 4 of their 5 wins this year including Sunday's game in Arizona. The Bucs offense has shown the ability to score when needed most, but what about the Bucs defense? Raheem said the defense played phenomenal on Sunday, but other than 2 interceptions thrown right to defenders returned for TDs, what was so phenomenal about it? The defense blew a 17 point lead in the 2nd half and gave up 28 points to an offense led by Max Hall and Derek Anderson. Yuck! I know that "stats are for losers", but giving up 400 total yards to the Cardinals and still having one of the worst ranked defenses against the teams they've played is cause for concern. Hey, at least they're running the "Tampa 2" which is better suited for these players!
Watching the immortal Anderson rally from a 17-point deficit, when the Bucs should have stomped on the Cardinals' collective throats, was so unnerving to Joe he broke out in hives.
This is why Joe wrote earlier in the week that with LeGarrette Blount in the game, defenses have to play the run more honestly which means the Bucs should — and can — absolutely turn the offense loose.
All of us witnessed this Sunday. It can be done.
The way the Bucs defense has been playing lately, the Bucs are going to have to win shootouts to get to the playoffs.