Sabby Piscitelli Released
November 30th, 2010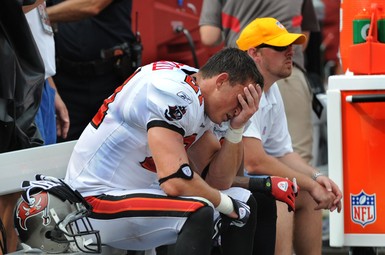 Joe's good friend, "The Big Dog," Steve Duemig of WDAE-AM 620 just broadcast word that the Bucs have cut safety Sabby Piscitelli.
So ends an era that tormented Bucs fans like few Bucs players have.
Piscitelli came into the NFL with great optimism and was (unfairly) compared with former Bucs great John Lynch for a number of reasons likely beginning with his skin pigmentation.
Like Lynch, Sabby came from an upper-class background. Like Lynch, Piscitelli was a force at a PAC-10 also-ran school.
Unlike Lynch, Sabby never seemed to grasp the fine art of mentally mastering the game. Sabby found himself in the Bucs starting lineup last year after Jermaine Phillips was hurt and Sabby soon was roasted more than a badly deep-fried turkey.
Given a fresh start with the eradication of the heinous Jim Bates Experiment, Sabby failed to win the favor of Raheem Morris and lost the starting job to Sean Jones this summer. In an ugly incident, Sabby publicly lashed out at his coach claiming the fix was in and that Sean Jones all along was going to be named the starter despite how well Sabby may have played in the preseason.
The problem was, Sabby was still making the same mental mistakes over and over and over again just as he had with the heinous Jim Bates Experiment.
How far Sabby fell out of favor with the Bucs braintrust was evident when Tanard Jackson was suspended for the season for failing a banned substance test. Rather than tabbing Sabby for the opening the Bucs turned to rookie Cody Grimm, essentially relegating Sabby to third string.
Shortly after Grimm was lost Sunday to a broken fibula, and lost for the season, someone badly blew coverage on Crows tight end Todd Heap resulting in a long Crows touchdown. Though no one not on the field knew for sure who blew the coverage, though some knowledgeable football people suggested it was Sabby.
Given that Sabby didn't last 48 hours after the game tells Joe it was Sabby who blew coverage on that fateful play.
This is not to kick sand in Sabby's face or to dance on his grave. But the move suggests the Bucs gave Sabby every reasonable opportunity to redeem himself on the field and to earn playing time and Sabby just didn't or wasn't able to take advantage.
Sadly, Sabby's tenure with the Bucs will go down as racking up the most mistackles (19) of any defender in the NFL for the 2009 season.