Run Micheal Run Spurlock Savors Bucs, NFL
November 13th, 2010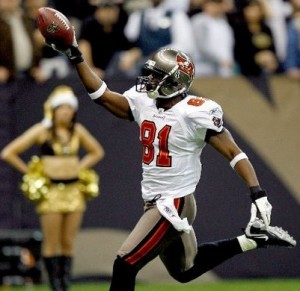 The way "Run Micheal Run" Spurlock has played for the Bucs, both in a previous stint and his current hitch, it's hard to believe or imagine Spurlock was nearly out of football.
Cut by the San Francisco 49ers and relegated to the UFL, Spurlock has a new found love of the NFL and the Bucs, so writes Joe Henderson of the Tampa Tribune.
"It was a very humbling period," Spurlock said. "Everything was on the up and up in San Francisco. It was looking like I had a home. Then, all of a sudden, you have to go home and tell your wife you don't have a job."

He wound up in Orlando, where commercial flights weren't the only difference. "In the UFL, you're limited to one or two pair of cleats," he said. "You get maybe one or two pair of gloves. Everything is limited. It was almost like you were back in high school; this guy might have an extra pair of socks or gloves, so you deal with him.

"It made guys closer, but it also made me respect the NFL and what it's all about. I think we take for granted what we have, what the NFL stands for, and all the people before us who made it what it is today."
In the story, Henderson writes that quarterback Josh Freeman trusts very few teammates more than Spurlock, and often goes to the wide receiver when all hell seems to be breaking loose.
Great story, as can be expected, from Henderson. Spurlock is one of Joe's favorite players and he hopes to hear Gene Deckerhoff yell "run Micheal run" early and often Sunday.