Raheem's Boast Still Rings Empty
November 27th, 2010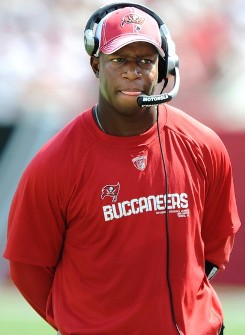 Joe knows this is an irritant to many Bucs fans. But like a nasty wart on the forearm, it's not going to go away unless something is done about it.
The Bucs have yet to beat a team with a winning record. So it's hard for anyone to objectively claim the Bucs are one of the best teams in the NFL when they can't beat an opponent which has more wins than losses.
Tom Balog of the Sarasota Herald-Tribune notes that for the Bucs to lose this image, they have to have a signature win. Until then, Raheem Morris' claim that the Bucs are the best team in the NFC is hollow.
You have to love the way Raheem Morris lives in denial. He's so hunkered down into the NFL head coach, head-in-the-playbook survival mode, that he needs a shovel to dig his way up to reality sometimes.

Among Tampa Bay's seven victories, I'm still looking for the one that shows that the Buccaneers convinced anybody that they are arguably "the best team in the NFC," as Morris once proclaimed, before the loss in Atlanta.

"You make me laugh every week with your creative way to ask me, 'Can I get a signature win?' " Morris said to me in his Wednesday press conference, downplaying the implications of Sunday's upcoming game against the 7-3 Ravens in Baltimore.
It isn't just Balog who is asking. It is the frauds on the take in Bristol. It's the mousse-laden empty heads like Dull Patrick. It's virtually every football fan outside of the Tampa Bay area.
With a win Sunday the Bucs can join the NFL elite. It's really that simple.
Now go do it.