Raheem Left To Call Plays
November 4th, 2010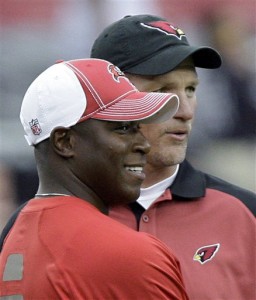 Rick Stroud of the St. Pete Times penned a story today about the roots and growth of the relationship between Raheem Morris and Josh Freeman.
Many Bucs fans have heard all about that before, but Joe found one nugget at the end of the story particularly intriguing. Morris explained some of his motivation to head from the Bucs to Kansas State, where he met Freeman.
When Morris left the Bucs for Kansas State, he was an assistant defensive backs coach on a staff that included defensive coordinator Monte Kiffin, defensive line coach Rod Marinelli, linebackers coach Joe Barry and defensive backs coach Mike Tomlin.

"At that time, Monte was the only one who had ever called his own plays," Morris said. "I wanted to call my own plays, which is why I went to Kansas State. Everybody thought it was a great opportunity for me."
Clearly a very smart career move for Raheem and probably a bit risky at the time leaving the Bucs for the college ranks.