Raheem Keeps It Loose
November 11th, 2010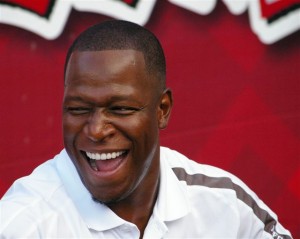 Ronde Barber told a group of Carolina reporters yesterday that Raheem Morris' approach is spot on for this young football team.
Joe listened in on the Panthers' official website and Barber said there's been no let up to Raheem's high-energy approach since Day 1.
"Raheem's a lot looser than some of the other coaches I've had here, but his approach to football and his approach to what goes on in this building I think relates well to a young football team. And so everybody's excited for it, still excited for it," Barber said. "That energy hasn't died down at all. It's always a hard transition when you're getting a new coach. But he made it as easy as possible, even though we were struggling a little bit last year."
No doubt Raheem has the Bucs playing extraordinarily hard from top to bottom on the roster.
Joe wonders whether Raheem will have the magic touch for knowing when to tighten — or futher loosen — the reigns and manage the club when it matures this year and beyond.