Odds Are Bucs Are Playoff Bound
November 22nd, 2010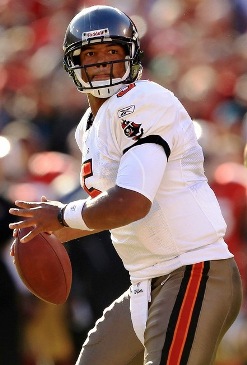 Yes, it's still November. Six weeks remain in the season. The playoffs start in January.
A lot can happen in the final weeks of the season, just ask Chucky.
But if one is a betting man, odds are good the Bucs are playoff bound. That's the word from eye-RAH! Kaufman of the Tampa Tribune who broke down the percentages of the Bucs chances of a playoff berth.
Buccaneer players may be reluctant to use the P-word, but NFL history suggests they now have a good chance to keep playing beyond the Jan. 2 regular-season finale at New Orleans.

Since the NFL re-aligned in 2002 to eight four-team divisions, 28 of the 36 clubs (78 percent) that opened 7-3 advanced to postseason play.

"It's still early," Faine said, "and the veteran leaders of this team know you can be 9-3 and still not make the playoffs. As for the younger guys, they don't know any better. We just tell them to keep focusing on the next game."
Just a crazy, crazy year for the Bucs. Joe is confident no sober football fan would have said in August the Bucs would have won seven games by Thanksgiving.