Mike Williams Has No Shot At Rookie Of The Year
November 5th, 2010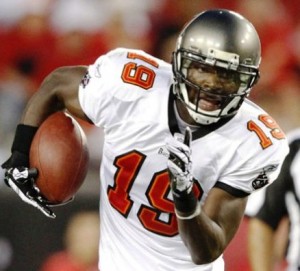 One the main reasons for the Bucs' upswing this season has been the lights out play of Bucs rookie receiver Mike Williams.
Some suggest Williams is a leading candidate for NFL Offensive Rookie of the Year, and Joe certainly cannot disagree.
But if Joe had to take an educated guess, that award will go to St. Louis quarterback Sam Bradford. Dude is getting it done and he has absolutely no one to throw the ball to. Guys off of the street. Glorified UFL receivers.
But hold on, says Peter King of Sports Illustrated. He Twittered this morning that, while he believes the award is Bradford's to lose, King, if the season ended today, would vote for Pittsburgh offensive lineman Maurkice Pouncey.
@MPCharles25: Any shot of maurkice pouncey as Off. ROY?

@SI_PeterKing: Very little, because Bradford's been so good. But MP's my midseason OROY.
Joe never thought of Pouncey, but yeah, he's playing well.
Would Joe like to see Williams get the award? Sure. But if the Bucs somehow make the playoffs, Joe's guessing that Williams will instead be comforted by his playoff bonus.
Oh, and yesterday, Joe tried to post a video of Peter King talking about the top teams in the NFC this has him specifically mentioning the Bucs. For some reason the video is having issues but here's a link to view it.