Jeff Fisher Regrets Cutting LeGarrette Blount
November 17th, 2010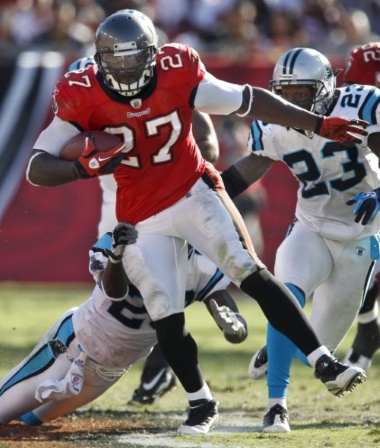 Joe assumes this can be filed under "Trying To Cover Up A Dumbarse Move."
Titans coach Jeff Fisher, due to a string of injuries, has been relegated to trying out the likes of Larry Johnson. Instead, he cut a guy who has single-handedly jump-started the Bucs offense, LeGarrette Blount.
Fisher cried to TitansInsider.com that he "gambled" in cutting Blount, hoping all other 31 NFL teams would pass and then Fisher would sign Blount to his practice squad.
Whoops.
Asked if he now wishes he had not let Blount go, Fisher said, "Every day. I thought we could get him to the practice squad, get him on practice squad, knowing that when and if there was any kind of interest, we could bring him back to the active roster. That didn't happen, but I'm very, very happy for him."
Oh, well. Tennessee's loss is the Bucs huge gain.