"He Was Eating [Talib] Alive"
November 30th, 2010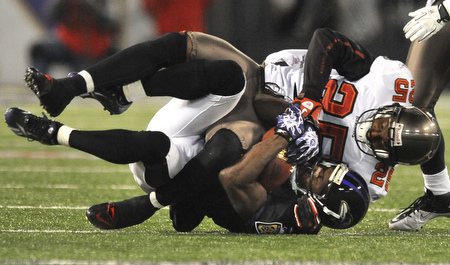 Secondary maven and Bucs head coach Raheem Morris said this week that Aqib Talib is playing like a Pro Bowler. 
Ronde Barber can't stop raving about the guy. And even Jeff Faine piped in last week with hefty praise of Talib and his teamwide leadership and impact.
And then there's former Bucs DT Chris Hovan explaining yesterday on 1010 AM that Ravens wide receiver Derrick Mason "was eating [Talib] alive" Sunday.
"Talib was gettin' beat on bump and run, press, zone, deep. Talib got schooled," Hovan told host J.P. Peterson. "Aqib is that great of a player where he'll correct it and probably get three or four more picks. He's playing like a ballhawk right now."
Hovan went on to say that going after Talib was clearly calculated by Baltimore. "It gets in your head when they come after you, that you're part of their gameplan."
Now Hovan has forgotten more football than Joe knows, but that doesn't mean he's right. Joe's wasn't seeing Talib getting beat all over the field like Hovan claims.