Faine On Health, Rookies And "Best In The NFC"
November 6th, 2010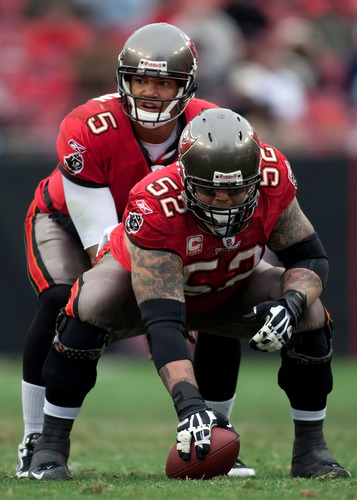 Yesterday, Joe gave you Jeff Faine's take on the demotion of Jeremy Zuttah and the release of Keydrick Vincent. Interesting stuff, for sure.
But Faine had much more to say on The Jeff Faine Show yesterday evening on 1010 AM.
On his health: Faine said it "looks like next week" for his return. "We're going to hold off one more week. …It's going along real well. We hit the sleds this week. Ran on the treadmill [Friday]. …Coming back this week would have been three weeks early.
On media predictions: "Peter King is a fantastic journalist. At the end of the day you can't take stuff personal. Personalities make predictions. It's like shopping a business plan to someone and they don't buy, you don't take it personal."
On Raheem calling the Bucs the "best in the NFC:"  Faine said he learned of the bold comment via text from a former teammate. He didn't say the guy played for the Saints, but that was the strong implication.  It was clear Faine is certain the comment ruffled players around the NFL. 
"I think it's a great play for us to believe we can be in the conversation, believe we can be the best in the NFC. Really, a lot of guys on this team don't know any better. …For him to put himself out there is very courageous, and guys are buying in. It's definitely helped the orgainization. Put a spotlight on it.
On the heels of blackouts, him saying that re-energized the team. Especially some of these younger guys that might be hitting their rookie walls.
On what evidence there is of a "rookie wall": "I was talking to Mike Williams in the training room [Friday]. He was saying, 'Man, we've got nine games left.' Like it's an eternity (laughing). Versus me saying we only got nine games left.