Enough With The "Stats Are For Losers" Line
November 3rd, 2010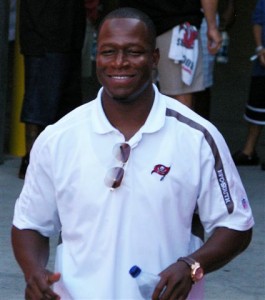 When you're the best team in the NFC, you better believe your defensive line is doing some great things.
Monday evening, a caller into The Raheem Morris Show on WDAE-AM 620, was critical of Kyle Moore's play and the Bucs head coach fired back with a rant on the great things happening along the Bucs' defensive line.
"I keep hearing the criticism for the D-line. But what I'm seeing from a coaching standpoint from the coach's booth is I see Gerald McCoy get five tackles and a tackle for a loss. I hear about him getting pancaked. They're not watching the same tape I'm watching. He's causing disruption along with Roy Miller up in there getting four tackles [Sunday] and a tackle for a loss," Morris said. "Stylez White coming up big [Sunday] with a sack and a forced fumble, two tackles for a loss and a big-time tackle in the flat on a third down stop. I'm seeing these guys, you know, start to be productive.

"You can't lead the NFL in interceptions if your D-line is not working. So I think it's all working together. I really mean it, and don't take it the wrong way, but stats are for losers. You gotta go out there and play as a unit, as a team and find ways to win football games. And that's what they're doing."
Now Joe thinks this "stats are for losers" line from Raheem is getting a little ridiculous if the head coach is going to quote numbers of tackles and interceptions to a fan and then tell the guy "stats are for losers."
Make up your mind, Raheem.
For Joe, stats are not for losers in many cases. Frankly, they're a good way to evaluate aspects of a football team. From looking at success rates in the red zone, numbers on 3rd-and-short, or dozens of other stats, they're relevant.
Plus, Raheem is always talking about the importance of self-evaluation.  And stats surely play into that. Heck, Greg Olson was out there flapping weeks ago about how Josh Freeman needs to up his completion rate a few percentage points.
And every player on the Bucs knows his stats are so very critical when it comes time for a contract. There are so many other examples.
Of course, Joe gets that the wins and losses are all that matter, which is the message of the "stats are for losers" line.
Joe suggests Raheem switch to saying "success is not measured by stats." Or perhaps, "this isn't Gary Shelton's fantasy football team."