"Defenses Are Doing Stuff To Take Him Away"
November 10th, 2010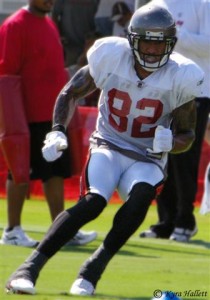 No touchdowns and 33 catches is the official stat line on Kellen Winslow.
Over the past three games, the Bucs' big money tight end has just nine catches for 80 yards.
Obviously, his production is down from 2009. Josh Freeman said at his news conference today that it's a result of defenses trying to make other players beat them.
"Defenses are doing stuff to take him away. Talking to buddies on other teams after the game they're like, 'Man, our whole gameplan was to go out and stop you from getting the ball to Kellen Winslow,'" Freeman said.

"He realizes that it's going to be tough when they're double teaming him, when they're rolling a safety down to his side and in and out on all his routes."
Joe would love to see the Bucs get more creative to get Winslow involved.
When he arrived last year, the big talk from the offensive coordinators was about getting him and Jerammy Stevens work on the field together to capitalize on the mismatches that would create — never materialized — and there was talk about how Winslow could be used as receiver in some sets.
It's great that he's getting double-teamed, which opens up the offense for others, but the guy's a mad talent. The Bucs need to get Winslow more involved.