Cool Stuff Update
November 27th, 2010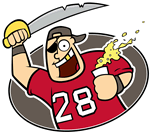 1) If you visit Joe's Win Stuff page right now, you'll find out how to get your hands on one of four Aqib Talib jerseys. First drawing is TUESDAY.
2) The Blackout Tour is going to be a fun one on Dec. 5 for the huge Falcons game. The next person to buy three tickets on The Blackout Tour for the Atlanta game will get a Reebok replica Sabby Piscitelli jersey from Joe. That's right, a Sabby jersey. Where the hell else can you get a Sabby jersey? Head to BlackoutTour.com now.
3) Rays news is always hot and heavy on JoeRaysFan.com. Baseball's winter meetings are in two weeks. JoeRaysFan.com should be on your daily radar.
4) Joe wants to welcome Honey's in Carrollwood to his family of advertisers. Featuring stunning food and wings from Buffalo natives, Honey's is open late — Joe loves the wee hours — and Honey's is a great sports fan experience. Their $1 drafts are a must for Monday Night Football. …Use the coupon on this page.