Coach Of The Year: Raheem Morris
November 6th, 2010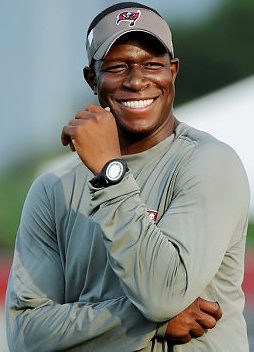 Bucs beat writer Anwar Richardson of the Tampa Tribune appeared on the Fabulous Sports Babe Show yesterday, heard locally on WHBO-AM 1040.  Richardson was adamant Bucs coach Raheem Morris is his choice for NFL Coach of the Year. He discussed many other subjects as well. including Aqib Talib "boycotting" the media and the Bucs not ready yet for "varsity" football.
Fabulous Sports Babe: The Bucs are so banged up at defensive line it appears Alex Magee will play.
Anwar Richardson: Yeah, it's looking like he will play with Ryan Sims being banged up and Brian Price being banged up and out for the year. They are running out of people, running out of players on the defensive front. They have Roy Miller and they want to rotate three defensive tackles. It has been evident this season that maybe you sign someone of the street. But a week or two later, you may be off the street but you will play. LeGarratte Blount was pulled off the street and now he is playing. You should expect to see Magee more because of injuries.
You don't hear a lot about the guys on the line, but they are still one of the worst teams in the league at stopping the run and getting to the passer to get sacks. They are tied for 30th in the league for sacks. What can you say? Young guys still learning and guys like Kyle Moore and Stylez White not showing enough to get excited about. They are playing impact positions but not getting impact play. The Bucs have been able to get away with it for in the long term, they know better. That's why they tried to get Shawne Merriman. They need a pass rush. They are playing well below expectations.
Babe: Is Brian Price going to need surgery?
Richardson: I definitely think there is something to the [rumors]. When I asked Raheem about it, he felt he would need surgery. The Bucs have been kind of cryptic, it's a mysterious injury. No one knows how it occurred, didn't know how serious it was. Though they had said it was week to week, now he's on injured reserve. I think they know definitely it is something serious but they don't want to come out and say it.
It seems like he will require surgery. He's a dancer, and maybe he was talking about his dancing skills and maybe he was trying out with Dancing With The Stars and bumped into Sapp or something?
Babe: Is Blount the guy who can run the ball or is he just a guy that we all saw punch someone on TV?
Richardson: The thing I will say is, he has not shied away from that question and I've talked to him a lot. I give him credit. At no point — when you hit someone with a sensitive question and they don't want to talk about it… Aqib Talib has boycotted the media, which is a violation of his contract, because he was outed for being in the stadium when he was suspended. Blount did something that was very recent and kind of a heinous act and he will still talk about it. I have to give him credit. But it comes down to, do you care about what he will do [off the field] or do you care about what he will do on a Sunday? Most NFL teams, that's all they care about is what he can do on a Sunday, just as long as the player keeps his nose clean enough to play on Sundays.
Blount has been productive and he will get the majority of touches but the Bucs won't let him start before Caddy because of the emotional attachment with Caddy. If Blount is productive and consistent, he will be the running back of the future.
Babe: With Caddy, they need to stop it, the emotional ties. He can't run more than two yards a carry. Let them give it to Blount.
Richardson: They are beginning to realize that. Maybe Caddy can do something here or there. Last week when you saw them give it to Blount in the second half, they realized they had to give him the ball and get the ball into his hands. Caddy has been great. So far as a good guy coming back after two knee surgeries, he's been great in that respect. No one ever calls [the Tampa Tribune] and says, "Hey, I saw Caddy in the mall and he was a prick to us."
The NFL is all about production and Caddy is not getting it done and LeGarratte is. Are you going to be emotionally tied to someone and not get production or are you going to give it to someone and win games? That's what the NFL is all about.
Babe: Are the Bucs ready to stop Matt Ryan?
Richardson: I've been saying this all week: They are stepping up to play the varsity. When they play the JV teams, they can beat them. When they have played against the varsity, you saw what happened. They played two varsity teams and lost by a combined 69-19. With Atlanta, we expect a playoff caliber type team. Yes, this is a measuring stick. Can they compete? I don't say they have to win but they need to show improvement and how they can be competitive.
The Steelers game was out of control in the first quarter. The New Orleans game was worse, it was out of control before you could blink. If its 17-0 after the first quarter and 24-0 at the half, that shows they are just not ready to compete at that level. It shows Raheem's "best team in the NFC" is just talk in the locker room. I want to see progress.
Babe: Are they putting too much pressure on Josh Freeman with all of this "best in the NFC" talk?
Richardson: With Rah, it's always been an "us vs. them" mentality. Last year he was telling his players, "all we have is each other." Now it is permeating. They are getting swag and confident. It's not the first time Raheem has said something like this. In training camp he said it's a race to 10. Now they are 5-2. If they keep progressing and get better, it may come true. Maybe not this year. No matter what Raheem said or what you say about him, I challenge anyone to say someone else is doing a better job than Raheem Morris.
Look at this roster. Look at this roster position by position. Who is a top five player? Is Kellen Winslow top five? I don't know. Is Talib top five? I don't think so. Max Hall? Look at what he did. No matter what anyone says about Raheem, he is doing a great job as a coach. You can say he is over his head but he is 5-2. You think Brad Childress isn't over his head? Wade Phillips? Look at the talent level. They got Blount off the street. I mean you have Ted Larsen starting and they are racking up offensive points.
With all the stale free agents, with all the guys they have had to release, Stevens and Keydrick Vincent, Raheem's doing a great job.
Babe: Is the offensive line getting better?
Richardson: It defies logic. You need continuity on the offensive line and they have not had that. You don't see Josh Freeman getting slaughtered or guys coming in clean. Give credit to Pete Mangurian and Greg Olson. The offensive lineman say Josh Freeman is not holding onto the ball too long and that he is getting rid of it quicker.
Babe: What do you think about Falcons game this week in Atlanta?
Richardson: I don't think they are ready for the varsity level. Maybe later in the year but not now.