Bucs Need "A Monster"
November 9th, 2010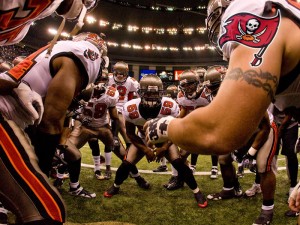 Veteran St. Petersburg Times columnist Gary Shelton was at the Georgia Dome Saturday. He saw with his own eyes the Bucs' frustrating loss to the Dixie Chicks.
It's obvious to Joe and it's obvious to many Bucs fans and it's also obvious to Shelton. The Bucs need a nasty, snarling, glass-eating, physical brute of a player on defense.
They need a Mike Singletary. They need a Jack Lambert. They need one of those snarling, snapping defensive players who, frankly, scares quarterbacks into wearing diapers. They need a Warren Sapp. They need a Bruce Smith. They need someone whom Roger Goodell keeps on double-secret probation. A vicious outside linebacker, maybe. A relentless defensive end. A ruthless safety. A Derrick Brooks. A John Lynch.

Did you see the Falcons cut through the Bucs defense for most of the afternoon? The Bucs could not stop the run, and they could not rush the passer, and they could not slow down the Falcons. Even in a good start, there has been too much of that for the Bucs. Too often, they just look like a team trying to hang on.

In other words, the Bucs need to spend next offseason adding defensive playmakers. They need someone to make a crunching stop at a crucial moment and add fire to his teammates.
Joe texted his good friend Justin Pawlowski of WDAE-AM 620 during the first half of Sunday's game that if Ray Lewis was a Bucs linebacker, he'd be so infuriated he'd probably punch someone. But that's the kind of guy the Bucs need: Someone who will punish an offense so bad that running backs seriously wonder if they should start selling aluminum siding to senior citizens.
Shelton may very well be onto something. Joe finds it very telling that last week Bucs general manager Mark Dominik put in a claim for Shawne Merriman.