Bucs Have Talent On Defensive Line
November 17th, 2010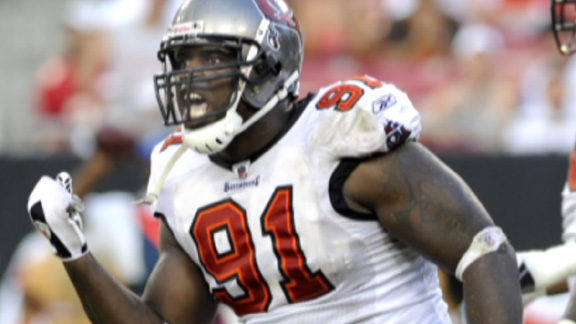 Bucs fans are so fed up with the putrid production of the defensive line while watching games, they're just about ready to wing a shot glass at an ugly bartender after throwing down a drink to try to numb the pain.
In fact, many believe any defensive lineman on the Bucs active roster who doesn't go by the last name of "McCoy" should be given a one-way ride by Paradise Worldwide Transportation — at cost! — to the front steps of the UFL franchise in Orlando.
Hold up! says Steve White. The former Bucs defensive lineman who started at defensive end on one of the greatest defenses in Bucs history and played six years for the Bucs under Rod Marinelli, believes the Bucs do have talent on the defensive line not named McCoy.
Joe will let Steve explain, as he breaks down each player and explains what the problem on the defensive line is.
Accepting that draft status isn't necessarily a good arbiter of talent, still I don't think there is anybody that the Bucs have on their current roster that couldn't make most other teams roster providing they also run a 4-3. I'll point out that last year people didn't think much of Jimmy Wilkerson but the Saints signed him as a free agent when he was still rehabbing a torn ACL.

Now I understand that none of the guys has had what you would call a dominant year this year, but that doesn't necessarily mean they don't have talent. I know people who will claim Stylez isn't a good pass rusher because he only has 3 sacks but if I point out that Justin Tuck and Jared Allen only have 4 sacks then they will claim that it isn't just about sacks. Look there's a lot in this world I don't know, but I DO know defensive line talent and the Bucs have it. I can't account for how they are using it though.

I want everyone reading this blog to seriously think about this question though. What defensive lineman for the Tampa Bay Buccaneers in the last 5 years would you say got better and progressed as his career went on?
Please educate yourself and read Steve's entire article. It's riveting if not detailed analysis for any Bucs fan.
My friends, it's quite simple. The Bucs defensive linemen simply are not being utilized correctly or they just aren't being coached up. Joe has written this before: If Stylez White's numbers are down, if Roy Miller is a shell of his rookie self due to his regression, it's fairly easy to connect the dots.
It's simply difficult for Joe to believe that Mark Dominik can find all sorts of hidden gems at virtually every position other than defensive line.