Barrett Ruud Fingers Youth For First Half Futility
November 8th, 2010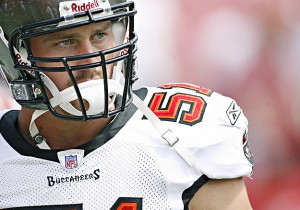 Many Bucs fans are unsettled by the Bucs defensive showing this season. The Bucs have demonstrated a disturbing pattern of not showing up in the first half of games.
Joe documented that the Bucs defense is playing worse in the first half than last year's heinous Jim Bates Experiment, as disturbing as that is to believe.
This was a subject of discussion with former Bucs Anthony Becht and Ryan Nece, who host a weekly Monday morning show on WHBO-AM 1040 when they welcomed Bucs linebacker Barrett Ruud today.
Nece claimed Michael Spurlock told him that, in short, some of the rookies seem to think they are still in college when it comes to preparation, that the week of film study and working out in the week preceding an NFL game is a different animal than the week leading up to a college game, and the rookies are still learning.
Ruud did not disagree, in answering Nece.
"When we arrived here, it was a veteran defense," Ruud said. "I think the young guys need to have more of a General-type of mentality."
What Ruud meant in saying "General" was a military-like focus. His statement seems dead-on.
What is the difference between the rookie defensive players and the rookie offensive players? The day of the draft this past April, Mike Williams and Arrelious Benn received a phone call from Josh Freeman, who told the wide receiver duo, in short, get your arse to Tampa and start working now.
Did we or have we heard or read anything similar about the rookie defensive tackles or for that matter, Roy Miller, and a Bucs defensive starter?
If you have, feel free to fill in Joe.
Ruud's reference to veteran players struck a chord with Joe. Now Warren Sapp was gone by the time Ruud showed up but when Sapp was around there was no question who was the leader. Say what you will about Sapp's boorish behavior, but if teammates did not put in their hours of preparation, Sapp made sure the world knew it.
In the fantastic NFL Network presentation of "America's Game," a significant portion of the Bucs feature flashed a spotlight on Sapp's clashing with Meshawn Johnson. Sapp was morally outraged that Meshawn would not work out with the Bucs in the offseason. To this day that still irritates Sapp.
Sure, the Bucs have veterans like Ruud and Ronde Barber that could have showed the rookies and youngsters what being an NFL player is. That usually takes a vocal leader; both Ruud and Barber have many times confessed that's not their personalities. If the youngsters ask Ruud and Barber for help, they gladly assist. But neither are the type that will grab a teammate by the facemask and forcefeed youngsters into the rigors of NFL life like Sapp did, and Freeman does.
Joe hopes that after the CBA is signed, Mark Dominik can sign a free agent defender (preferable a linebacker or defensive end) who is more of an in-your-face, workout warrior who will grab his teammates by the jersey and show them, force them to learn what it means to be an NFL defensive player.
And if needed, give them a swift kick in the rear end.