Are Jeremy Trueblood's Days Numbered?
November 25th, 2010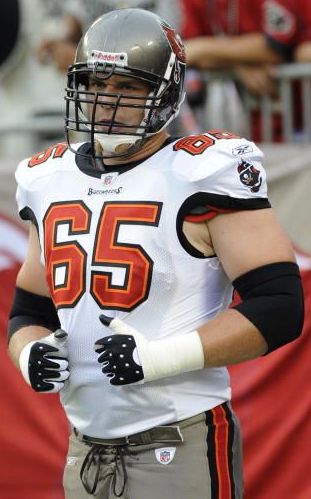 Joe thought it was interesting that the Bucs' rushing attack began to pop when there were injuries to the Bucs offensive line, including right tackle Jeremy Trueblood.
Joe also found it more than a little strange when Cadillac Williams sung the praises of Trueblood's backup James Lee on Sirius NFL Radio, as if Lee was the second coming of Dan Dierdorf.
Tom Balog of the Sarasota Herald-Tribune seems to be sensing the same thing. As we begin the homestretch of the 2010 season, Balog has a hunch these games will be Trueblood's last weeks as a Bucs starter.
"Anything they say, you just have to take it with a grain of salt, good or bad," Trueblood said Wednesday. "Just use it and understand where they're coming from. They're the coaches, I'm the player. I play when I'm told. I just have to be ready to play whenever they want me to."

Lee is a low-budget young player earning a minimum salary who has shown over four starts that he can protect quarterback Josh Freeman and block for the run much more cheaply than Trueblood, who is making $1.759 million this season after signing an original draft position tender.

"Effort, consistency, the desire to improve," said Buccaneers offensive line coach Pete Mangurian, assessing Lee's play. "He had some penalty problems early. He fixed that. He looks at what he doesn't do well and he tries to do it better the next week and that's all you can ask."
Joe strongly urges his readers to browse through Balog's story in its entirety. All sorts of good nuggets in there.
If Trueblood left the Bucs, this wouldn't shock Joe one bit. If Lee can get the job done just as well as Trueblood, for a fraction of the cost, it would be crazy for Team Glazer to cough up the extra dough to keep Trueblood when that same cash could be used to lure a free agent linebacker, for example.