Are Aqib Talib, Bucs Now Targets Of NFL?
November 30th, 2010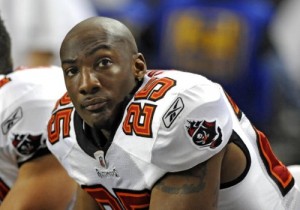 Joe can't remember who he read this from on Twitter, but Sunday someone wrote that Texans wide receiver Andre Johnson's beat down of Titans defensive back Cortland Finneran was so severe that the NFL was going to fine James Harrison.
The Steelers All-Pro linebacker has been a target of NFL warden commissioner Roger Goodell in his crusade to turn football into high school girls basketball. It seems that Harrison cannot breathe on any person with a different colored jersey lest he gets fined six-figures.
In short, Harrison, and indirectly the Steelers, have become a target.
Could the same be happening to the Bucs?
The first thing Joe thought of when he heard Bucs cornerback Aqib Talib had to be restrained from attacking an NFL official after the referee mocked Talib using a vulgar street term for female genitalia, was that Talib won't get the benefit of the doubt on any call for the rest of the season if not beyond that.
Now, with Talib being an enemy of the NFL referees, like Harrison, Talib won't be able to look the wrong way at a wide receiver lest he get flagged for interference, or worse.
Seems as though a former Bucs great thought the same thing.
Twittering Sunday night, former Bucs linebacker Derrick Brooks believes Talib is now a marked man.
@DBrooks55: Wow That now makes him a marked man he wont get calls now, Officials tite group.
Joe was afraid of this and who better to know about this than Mr. Derrick Brooks? It's going to be razor close for the Bucs to make the playoffs if they cannot beat the Dixie Chicks this weekend.
Did Talib's actions after Sunday's game potentially paint the Bucs into a corner with the zebras that may eventually cost the Bucs a game in the chase for a wild card?