Davin Joseph Talks To Joe
November 7th, 2010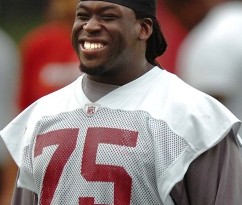 Joe is late to the table with this so he apologizes upfront. Joe has other duties as well outside this site and sometimes things get piled up.
After the Bucs beat the Rams, Joe had a chance to talk to Bucs offensive guard Davin Joseph. Joe thought this was really interesting perspective on how Joseph is something of a perfectionist; striving to be his best.
JoeBucsFan: Nice comeback.
Davin Joseph: It was one of those games we really struggled in the fist half with a bunch of penalties but when it counted, we found a way to win. It wasn't pretty. [Laughs]. It's a W. It makes us feel a little bit better. We have a lot of areas to improve in. We need the veterans to step up — me included — to help the young guys. And we will do a better job this week to get better for the next game.
[Joe's editorial note: And look what that offense did against Arizona.]
Joe: Is this a sign of a good, team that, as you said, didn't play well at all in the first half but you found a way to win and found a way to get the job done when you needed to?
Joseph: Yeah, you could comprise it like that. We messed up in areas where we shouldn't have messed up. Procedure penalties and holding. Those are things where we are hurting ourselves, much more than scheme. But we found a way to win and that's a positive. But there are areas where we messed up that we shouldn't have faltered.
Joe: Is that partly because you have so many new people playing and guys playing other positions on the line?
Joseph: Nah, we have the same expectations. We have the same standards. We can try to make excuses but that's not going to get us anywhere. That's not going to get us where we are trying to go.