What's The Next "Philosophy?"
October 14th, 2010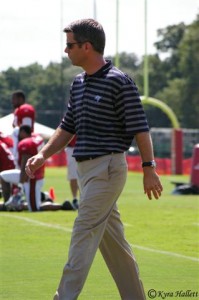 Mark Dominik gave an exclusive interview to NFL Radio on Wednesday, only transcribed right here by Joe, and Dominik explained that he's transitioned from his Jimmy Johnson phase into his Tony Dungy phase.
Mark Dominik: Let's be honest, we are 3-1 and we played some close games. But one thing we all attribute this success is that we have been building chemistry on this football team. That is how we tried to build the football team. I had a Jimmy Johnson philosophy in changing the roster around and making some hard decisions. Before, we were claiming guys off of practice squads. We have now set ourselves up into what I call the Tony Dungy philosophy in that we will go all young and grow together.
Now this made Joe laugh a bit. Joe's not sure what "philosophy" Mark Dominik's past mistakes came under, but that doesn't matter now. The Bucs are 3-1. Josh Freeman is for real. And Dominik is a budding rock star on the NFL front office circuit for his two drafts.
So Joe has to wonder what philosophy is next?
If the Bucs manage to go 8-8, a tremendous achievement for their talent level and experience, does that mean Dominik would then turn to a get-over-the-hump, get-a-few-premier-free-agents philosophy? And try to accelerate a Super Bowl march with a mix of "ascending players," as Raheem Morris likes to call them, and established stars?
Surely, Team Glazer remembers its glory years of stockpiling studs and paying a steep price for them, in draft picks and/or cash. It paid off with the ultimate prize and a packed stadium.
For now, Joe just hopes a new philosophy is in play at the end of the season. That would mean the Bucs finished the season strong.