Take A Bow, Raheem
October 10th, 2010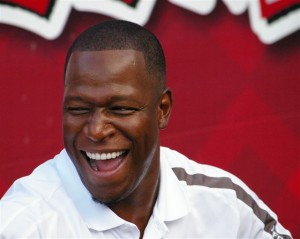 Who's the leading candidate for NFL Coach of the Year?
Now Joe's not ready to build and erect a statue of Raheem Morris in downtown Tampa for three wins, but the guy deserves a standing freakin' ovation.
The 2010 Bucs are 3-1.
Not even the most stout optimist had the Bucs in this predicament after four games. When the game was on the line today, Morris and his team flashed extraordinary will and drive — and some incredibly aggressive playcalling — that only comes from strong leadership. The head coach deserves his due. Now he's got four in a row on the road.
If the Bucs can even split they're next two games, home against the Saints and Rams, who got pounded today they sit at 4-2.
Unbelievable.