Stylez White's No-Spin Zone
October 13th, 2010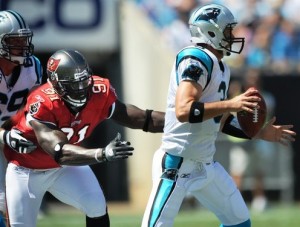 Every week in his popular Bull Rush column, former Bucs defensive end Steve White breaks down the play of each Bucs defensive lineman and looks at all things defensive line as a whole.
It's always a unique, intense and long read. Joe always advises you to read the whole thing.
Following the Bucs-Bengals game, Stylez White was skewered with a fat dose of reality:
Stylez G. White: I have been saying for weeks that White has to start making inside moves to get offensive tackles to stop setting for his outside rush. And for weeks nothing has changed. Now Stylez did some good things against the Bengals. He had an assisted tackle. He had a great EX game going with Moore where he comes in and blasts the left guard and takes out two blockers to free Moore up. And he also had that great outside rush from the left side which I talked about earlier.

But I'm going to make a point here. I counted 7 times when Stylez had an opportunity to make an inside move. By opportunity I mean the left tackle took a wide set, the B gap was open, and the left guard at least initially was not looking for him to come inside.

SEVEN TIMES!

With a damn statue back there at quarterback!

Stylez won't have a better opportunity to sack a quarterback who has no inclination to try to move very much in the pocket. And Palmer isn't the type of guy to hold on to the ball and allow you to get to him consistently with an outside rush. And yet out of those 7 opportunities Stylez didn't try even once to take what the Bengals were giving him.

Maybe the most egregious opportunity squandered was with 45 seconds left in the first half. The left guard literally turns his back to the B gap and the left tackle opened up so wide with his shoulders turned towards the sideline that he practically had a neon sign flashing "SPIN ON ME PLEASE!!!" Instead White tried to go around the horn again…and didn't get there.

I have always had confidence in Stylez as a pass rusher. I was one of the ones who agreed with his assertion that he would have double digit sacks this year. But right now he is giving away sacks and pressures. Left tackles should be sending him thank you cards because he is letting them off the hook. And the defense is not as dominant as it should be because he continues to focus solely on beating guys outside.

There isn't a premier pass rusher in the NFL at defensive end who does not make inside moves several times again. Not a single one. Simeon Rice who was one of the most productive and fastest defensive ends in Buccaneers history would make three or four inside moves a game at least. You HAVE to do it not only because it gives you an opportunity for quick pressure, but also because it gives left tackles more than one look so they can't be comfortable in their pass sets.

Its just like a pitcher. If all you throw is fast balls, even if you throw heat, people are going to knock your shit out of the park. But if you throw a change up here or there you keep guys off balance. And you make it a lot easier on yourself.

Until Stylez starts throwing change ups our pass rush isn't going to consistently scare anybody. And there is absolutely no chance he will get to double digits.

It is what it is.
For Joe, a successful, consistent pass rush from the Bucs' defensive line feels like ancient history at this point.
Perhaps the Over Stick is in order?