Rams Rebuilding Quicker
October 22nd, 2010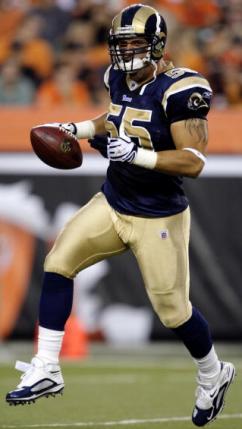 If you think the Bucs season last year was sickening — and it was — imagine being so putrid, so absent of hope, your team finished with the first pick in the draft.
That's how miserable the Rams season was, and they used that first pick to select their franchise quarterback, Sam Bradford.
After the Rams had a few surprising wins, including blasting San Diego last week, could it be the Rams rebuilding effort is a quicker construction than the Bucs?
It seems eye-RAH! Kaufman of the Tampa Tribune thinks so. He put fingers to keyboard and posted via the TBO Bucs Twitter feed that the Rams are rebuilding better than the Bucs.
The Rams may be a little further along on their rebuilding plan than the Bucs. That's why Sunday's blacked-out game has some intrigue.
Well, three things the Rams have that the Bucs don't have which may lead people to believe the Rams are indeed further along: They have a young stud rush-stuffing middle linebacker in James Laurinaitis (son of "Animal,") a budding sackmeister of a defensive end in Chris Long and a dangerous, workhorse of a running back in Steven Jackson.
If the Bucs had solid play from those three positions — which, currently, the Bucs do not — the Bucs would be just as far down the rebuilding road as the Rams, if not farther.