Quit Playing Around: Start LeGarrette Blount
October 25th, 2010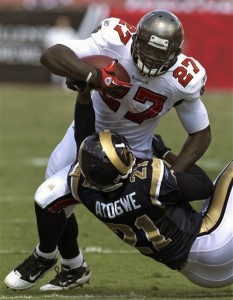 A dead car battery had more energy than the Bucs' rushing attack through the first 5 1/2 games this season.
When the Bucs hoisted Cadillac Williams and his sub-three yards a carry average as its answer to Adrian Peterson, any sober Bucs fans knew the running game would be in trouble.
The begging, pleading for someone, anyone to start other than Williams by Bucs fans so unnerved Bucs offensive coordinator Greg Olson that he pronounced the Bucs had no one on the roster better than Caddy.
LeGarrette Blount yesterday, finally, proved Olson's remarks to be wrong or at least misguided.
The Bucs have a real shot at a playoff run. Strange and awkward as that sounds, it's true. So the time has come to stop clowning around with the running game. Enough with the touchy, feeling emotions of keeping Cadillac in the game only to drag down the offense. Start Blount now, demands Tom Balog of the Sarasota Herald-Tribune!
The Buccaneers rushing statistics in their 18-17 victory over the St. Louis Rams on Sunday tell you one thing: rookie backup LeGarrette Blount needs to be the starting running back.

Blount busted a 47-yard run that was nullified by a blocking in the back penalty against tackle Jeremy Trueblood, which had nothing to do with springing him on what would have been the best run from scrimmage the team has had from a running back this season.

Not counting fullback Earnest Graham's 61-yard run against the Bengals in Cincinnati, of course.
Balog went on to write that no less than quarterback Josh Freeman had more yards rushing than Williams.
Look, Joe gets that Williams is a great guy. Joe loves him too. But the NFL is about results. This isn't high school. Cadillac simply hasn't been getting it done. That's not a knock on the man; he's got two man-made knees for crying out loud.
Joe also gets that Cadillac may be the Bucs best running back at picking up blitzes. But to continue to start him at running back and futilely watch him not read holes and run right into the backs of offensive lineman, the Bucs can no longer justify Williams' blocking ability with such feeble rushing results.
That's no different than continuing to trot out Michael Clayton as a starting wide receiver because he can block. Williams is a running back. Keyword: running.
Bring Williams in on obvious passing situations where he can pick up blitzes and catch passes out of the backfield. That's fine, that's great, that's probably a smart thing to do.
But to keep Williams as a starter when his productive days are past, and keep a buy like Blount on the bench when he has proven he can produce yards, with the Bucs having a clear shot at a playoff run, well, Joe believes that's inexcusable.