Lay Off Gerald McCoy
October 28th, 2010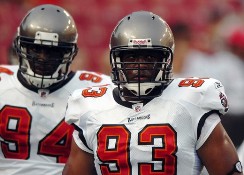 Joe can already hear the whispers from various sources and it is disturbing him.
Local morning sports radio show hosts have stopped just short of saying it. Some crazed Bucs fans have not.
Perhaps with the memories of the late Gaines Adams all too fresh in people's minds, some impatient, impractical Bucs fans are already calling Gerald McCoy a wasted draft pick.
One fan even had the nerve to suggest this to eye-RAH! Kaufman of the Tampa Tribune, in a recent TBO Bucs question-and-answer feature.
Q: With us being six games into the season and Gerald McCoy having 0 sacks and only 8 tackles so far, what's your opinion on his play so far? Do you think Raheem moving him around on the line has anything with him not getting sacks?

Buco Pat, Tampa

A: The Bucs believe McCoy played his best game of the season Sunday against the Rams. He was active across the line of scrimmage and perhaps the sight of former Sooner teammate Sam Bradford motivated him. I think his days of lining up everywhere on the line are behind him. The Bucs want him to settle in at the crucial under-tackle spot. That's why they drafted him.

— eye-RAH! Kaufman
Joe has been over this too many times to count. Much more learned NFL men such as Gil Brandt and Pat Kirwan have detailed how difficult it is for rookie defensive tackles to make the transition from college to the NFL.
In college, it's not uncommon for a defensive tackle to go against a glorified child, a freshman or sophomore still unable to buy a beer legally in the United States. In the NFL, often, the same player is going against grown men, skilled in the art of blocking.
It can be a huge, difficult leap.
Kirwan earlier this calendar year documented just how difficult it is for rookie defensive tackles to do anything their first year. Last year, Roy Miller had better stats than any defensive tackle selected in the first round.
Sure, Joe knows someone will bring up Manbeast Ndamukong Suh. He will always be the benchmark for McCoy, which is rather unfair as a guy like Suh comes around once a lifetime.
Oh, and Suh is playing alongside Kyle Vanden Bosch, one of the better veteran defensive ends in the league. Don't think that's doesn't help Suh out? How much better would GMC be if he had someone like Vanden Bosch playing next to him?
In short, lay off GMC. Expecting him to do anything this year is premature.
Not even Warren Sapp — who GMC is often compared to — did much if anything his rookie season.