Josh Freeman: Winner
October 25th, 2010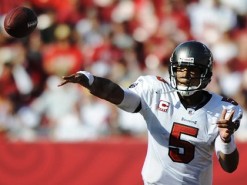 In his weekly wrapup of Sunday's NFL games, Charles Robinson of Yahoo! Sports lists the day's winners and losers.
Not surprisingly he has the Bucs as a winner but in particular, he cites Bucs quarterback Josh Freeman.
• Tampa Bay Buccaneers quarterback Josh Freeman
Even at 4-2, the Bucs are a long way from being a good team. That said, people can stop sleeping on Freeman. He's not just a big arm and a bundle of athleticism. Watch the Buccaneers' game-winning drive against St. Louis in the final seconds – Freeman was in total command. The guy is a leader, too. He's going to be a big-time player.
As Joe wrote yesterday, he is very impressed with Freeman in the fourth quarter. So far, it's almost as if you want the Bucs to trail in the fourth quarter and give Freeman the ball. That's when he plays his best.
Crazy but true.