Josh Freeman Speaks
October 26th, 2010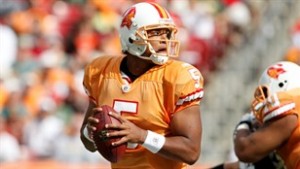 Once again Bucs quarterback Josh Freeman decided to appear on "The Blitz" this morning, co-hosted by newfound Bucs fans Adam Schein and Rich Gannon, heard exclusively on Sirius NFL Radio.
Soitenly, Joe transcribed the interview. Bucs fans should expect no less.
Adam Schein: Joining us again is the hottest quarterback in the National Football League. The kid has a knack for playing his best when it matters the most. Congratulations on another fourth quarter win Josh.
Rich Gannon: Hey Josh, how is that thumb doing? It doesn't seem like it is bothering you anymore.
Josh Freeman: I really don't even know something's wrong unless I push it the wrong way, then it will hurt but it's healing really nicely.
Schein: Take us through that final drive. We read in the Tampa papers that you told your teammates in the huddle, and I quote, "We are about to win this game. We have 81 yards to go. We are going to win this game." Did you say that?
Freeman: I'm not sure if I said it like that verbatim but that is the gist of it. The defense did a great job in the second half giving us opportunities to score points. I looked at everybody and they knew what I was going to say. I just told them, "Hey, it's our time again. We need everybody to step up. I need you to make some plays." Everybody responded and executed well. It was a very emotional win to come from behind.
Gannon: Where have you made the most improvement in year two from your rookie year?
Freeman: Understanding the ebbs and flows of the game. There are so many scenarios and ways to win a football game. What I have found is to play better, knowing when and when not to take a shot. Last year if we were down two possessions in the first half, I remember throwing balls up for grabs and taking unnecessary risks. You're not going to get back in the game with one play. It's not always about getting the big play, but getting points on the board and getting momentum and playing for the second half.
Schein: I love that quote, "It's our time again." You have now won seven games and five from behind in the fourth quarter. How do you play your best when it matters the most?
Freeman: It's not just me. It's our whole offense and the defense. They gave us the opportunity to win. It's a mindset, a culture. We have a lot of confidence. We are young and a lot of people doubt us. We may not play our best for 3 1/2 quarters but if we have the opportunity, we will score. Why not? That's our mindset on Sundays. We can drive down the field no matter how many penalties. It was our defense that gave us a chance to win.
Gannon: Talk about Mike Williams as an impact.
Freeman: You know, it's not hard to get on the same page with a guy like Mike. He's an extremely talented athlete and a good individual. His work ethic is tremendous. I remember after he was drafted I talked to him on the phone before he came down. When he got here, you could see he was hungry. He didn't have a lot of reps with the first team but once he had, he had a feel for it. He stayed after practice. He worked on the different nuances of the game. Mike is a great guy. I have a lot of respect for him and a lot of confidence in him.
Schein: Raheem Morris says  you are the best team in the NFC. What's your reaction to that and are the Bucs the best team in the NFC?
Freeman: A lot of people have said Raheem is talking crazy. But he is a passionate coach and he's our coach. If he says it, we need to believe it in our hearts. We are 4-2 and it's not going as we thought it would but we are finding a way to win games. If we play our best, we're now 4-2, who knows? We are trying to find a way to make Raheem's statement correct
Gannon: I thought your team changed when Raheem took over as the defensive coordinator. Talk about your defense pitching a shutout in the second half.
Freeman: The defense did a great job. But to win a game in this league, you will have to score points. But we were only getting field goals. Luckily, we have a good kicker. The Rams did a nice job in the first half. The Rams have some talent. The halftime corrections our defense made, wow. Raheem thought we played the worst half of football of the season in the first half. Our defense took it to heart and shut them down. They kept them in third and long. It was great to see such an entire team effort.
Schein: Tell us about LeGarette Blount. I think he has a bright future in Tampa Bay.
Freeman: No doubt, no doubt. He's doing a good job. The thing in college [slugging a Boise State player and trying to charge the crowd], it's talked about but once in a while when we give him grief about it. He wasn't here during training camp but when he was here, he's done nothing but work to learn the offense. It's not always pretty when he gets the bell but he is effective. He's a great guy. We're fortunate enough to have all the quarterbacks next to each other in the locker room and LeGarrette Blount's next to us. He's a good guy. He's a tough guy, a hard-working guy. He fits in well with us.
Gannon: You've already won more games than last year, and you've won a few on the road. Your next five games are a brutal schedule but if you have success there, you position yourself in good shape. Have you talked about being a better road team?
Freeman: For sure, but being a better team in general. Winning three games in 16, that's really bad. We took a look at where the team was going and why were losing. Playing on the road was a big thing. I feel as comfortable on the road as well as at home, though there can be some communication issues. I think we play tighter as an offense and closer as a team when we are on the road. I feel good about where this team is headed. If we win some games where we are not supposed to, it's setting ourselves up for the fourth quarter of the season.
Schein: Raheem has told us that the turning point of this season was last year when you became the starting quarterback. You buy that?
Freeman: I do see that. Raheem has said that before. That's why he drafted me. He told me, "When you are on the field, I don't care who we are playing, I feel like we can win." It's great to have  coach who believes in me. That is huge. He lets me play my game and find a way to win. I try to make him right.
Gannon: When you saw Sam Bradford struggle at times, did it bring back memories of you last year?
Freeman: I guess it did. Sam is a great quarterback. You look at the passes he threw, there were not really any downfield. You could tell that by the playcalling they were trying to protect him but he was playing smart. He's taking care of the ball. I was hoping Aqib Talib would get some balls but that didn't happen. I told him after the game to keep working, that it only gets easier. It's just a level of comfort that only comes with experience.
Schein: The Cincinnati game, was that your best NFL experience? I thought it was surreal.
Freeman: I don't know. Every win we have had, there are a number of memories. It's hard to rate them. But going on the road to Cincinnati, they played a great football game and caught us off guard with their blitz package. I got beat up that game. But winning that game, it was all worth it. Seeing Mike Williams step up and make plays and seeing Michael Spurlock make plays, for me, experiencing winning with my teammates, that is my goal. It's hard to rate wins. The feeling is insane coming from behind. It's a great feeling.
Gannon: You had an early bye. Where are the areas where you can be better offensively?
Freeman: All around. We leave too many yards on the field. We don't capitalize enough. Really, it just comes down to making plays that are there for us to make. The Saints game, I overshot guys that should have been TDs.  That falls on me. If the offense is not playing well, that's my fault. I have to convert on third down to keep these guys going. We play our best football when we are realized and we are more relaxed when we are prepared. I feel every week I've gotten better with that.