Joe's Guilty
October 6th, 2010
Update: 8:15 p.m.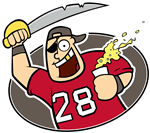 Ok. Ok. The post below was corrected by Joe but didn't need to be. After some enlightenment by esteemed Bucs beat writer Woody Cummings, of the The Tampa Tribune, his published stat about the Bucs not having a 100-yard rusher in 29 regulation games is correct.
Cadillac Williams rushed for 120+ yards in New Orleans last year but gained about 40 of it in overtime, as the Bucs grinded out the win.
Joe is hanging his head in shame. It happens.