Is Aqib Talib Risking A Fine?
October 30th, 2010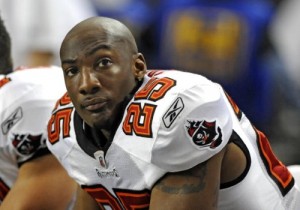 Though NFL warden commissioner Roger Goodell is enjoying bad food and bad NFL teams in London this weekend, again making noise about an NFL franchise in Europe, Goodell's deputies assistants continue to bring the hammer down on players back in the colonies.
Case in point, Randy Moss.
The all-world yet oft-gametime vacationing wide receiver with more baggage than Santa Claus got slapped by Goodell for $25,000 for blowing off the fourth estate, an issue that apparently traveled with Moss from New England to Minnesota.
Could Bucs cornerback Aqib Talib be far behind?
Now before anyone freaks, Joe has absolutely nothing against Talib. Nothing. Joe's had one encounter with the guy and it was professional if not pleasant. But hear Joe out:
Talib was (correctly) outed by Rick Stroud of the St. Petersburg Times for being in a luxury box at the CITS — a luxury box Talib himself paid for out of his own pocket — during the Bucs season-opening win over Cleveland, as Talib was serving his one-game suspension for his cabbie-slugging incident last year.
Talib, innocently, wasn't aware he couldn't watch the game from a luxury box that he coughed up hard-earned cash for. Nope. NFL suits don't allow that.
Stroud came across the information and, as a journalist should do with accurate information, reported Talib's sighting. Don't blame the messenger. But of course, reporting a truthful story often comes with repercussions, particularly if a story exposes someone, no matter how accurate said story may be.
Since, per Joe's sources, Talib has frozen out the local fourth estate.
He has consistently refused any and all media requests to speak on the record, save one with BSPN. After games, Joe is told, Talib races out of the locker room as if an Ebola virus has broken out, thereby avoiding the fourth estate.
Joe has learned that, per NFL media guidelines, if requested by reporters, a player must be made available at least once a week. This could be after a practice or after a game.
Talib has not been available.
Now if Goodell is starting to go after player's checkbooks for not talking to the press, as in the case of Moss, is Talib walking on thin ice shutting out local reporters?
Again, Joe has absolutely nothing against Talib. He was cooperative with Joe the lone time Joe spoke with him. Joe never asked about his off-field cabbie incident because Joe didn't think it was relevant as Joe was writing a football story.
Joe can understand why Talib wouldn't want to give Stroud the time of day. Stroud was hardly wrong in fingering Talib, but Joe can understand why Talib would be upset with Stroud.
But why punish reporters from other organizations, and in the abstract, Bucs fans?