"I Know I'm Big, But Come On, Man!"
October 28th, 2010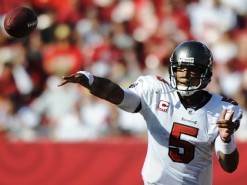 It absolutely blows Joe's mind the vapid and weak excuses women come up with for not having the NFL Network. It truly is amazing.
There isn't a day that goes by that Joe doesn't watch the NFL Network. Incredible work these guys do.
Take for example last night in a weekly show called "Sound FX," where NFL Films mics up various players and coaches and takes viewers to areas otherwise unseen or unheard, on the field, on the sidelines and in the locker rooms.
In this episode, NFL Films has mics on both Bucs coach Raheem Morris and quarterback Josh Freeman. Some really cool stuff here.
Joe likes how Raheem works the officials. Pretty neat.
Now for the women without NFL Network that read Joe, do yourself a favor and step into the 21st century. You will thank Joe for it.