Gerald McCoy Beginning To Feel The Heat
October 18th, 2010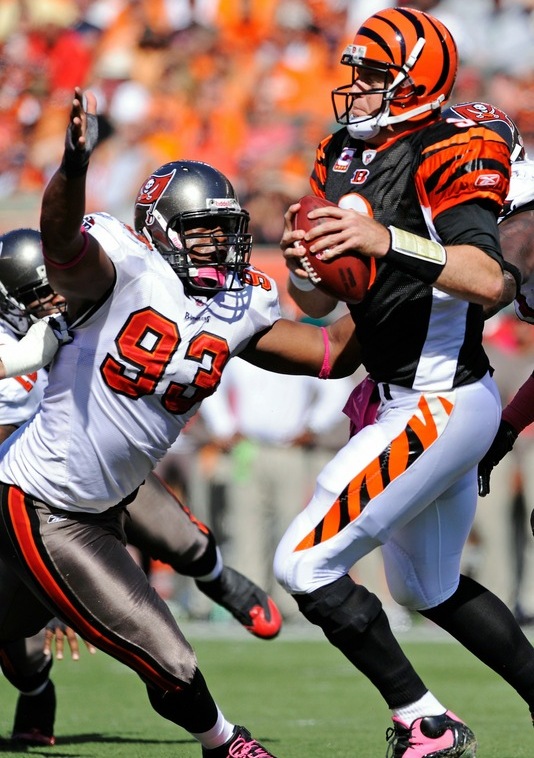 Joe could smell this coming, and it's not a good thing.
Fairly or unfairly, Bucs first round draft pick Gerald McCoy will always be compared to manbeast Ndamukong Suh. Both played in the Big XII Conference. Both were the jewels of the defensive tackle position. It seemed evenly split, depending on who one spoke with, who would be the better defensive tackle.
Suh is off to a hot start in his rookie season, which for a defensive tackle is about as rare as snowfall in Miami. GMC has not had as much success. Yet.
Joe has heard rumblings from various local sports radio hosts that GMC will never be Suh's equal. Now that is beginning to creep into the local papers.
Joe Henderson, the local sports voice of reason, has penned a column in the Tampa Tribune about the problems GMC has had in racking up tackles much less sacks. GMC has had few of the former and none of the latter.
This Joe could just smell this column coming after the awful loss to the Saints Sunday.
"I am so worried about playing the thing the right way instead of just making the play, it's slowing me down," he said. "I've just got to get out of it."

None of this is what the Bucs had in mind when they made the defensive tackle from Oklahoma their top selection in April. "When the defense isn't playing well, it's my fault. That's just how I feel," he said.

"I've been in the film room early, I've stayed late. I don't know what it is but I'm going to keep working. I just have to fix it."
Joe can only suggest people be patient. Suh may just be  freak of nature that comes along once every 20 years. Rarely do defensive tackles have an impact as rookies. Warren Sapp didn't. And last year one of the best rookie defensive tackles was Roy Miller of the Bucs, and his impact was minimal at best.
Let GMC breathe. Let him learn. Please, stay off his back.