Donald Penn Talks To Joe
October 25th, 2010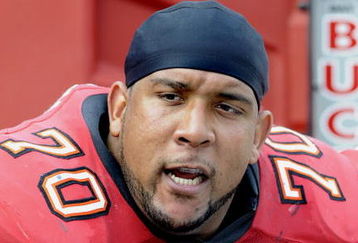 Following Sunday's thrilling victory against the Rams, Joe had some one-on-one time with Donald Penn. The Bucs' left tackle talked about the running game, playing next to rookie guard Ted Larsen, his weight loss and more.
JoeBucsFan.com: Knowing you had a rookie first-timer in Ted Larsen next to you at guard who got in trouble with some penalties, did you have any words of advice for him during the game?
Donald Penn: I just told him to keep fighting, man. That's been the motto of our team. This year and last year. You know, last year we lost a lot ofgames and we were down [by a lot of points] a lot. But one thing us as an O-line did was fight 'til the end. I think that's one thing that's helping us. It helped us in the Cincinnati game and against the Rams. You know, we always keep fighting. So when we do have a chance to win now, it's easier now because you're in the game, not losing and trying to push yourself to fight hard. Now you have a reason to push yourself hard because the score isright there and the team is winning so it makes it easier. I just told him to keep fighting.  I was tyring to help him a little bit (physically) but I was getting power rushed. But he told me at halftime, 'Do you. Do your thing, I got it.'
Joe: Xs and Os-wise how were you trying to help Larsen?
Penn: I was sitting tight and trying to give him a hand. And then my guy was power rushing me and I wasn't able to get off. You know, because I was trying to help him too much. I adjusted and the coach adjusted in the second half and brought the center with him so I could do my thing on an island. In the second half I played a lot better. I played pretty bad in the first half, the whole team did.
Joe: What else can you say about the O-line helping Larsen and his performance?
Penn: I told [Larsen] a little story. It's a quick story. 'I got in the game. I never got out since. It's up to you to do it.' He was like, 'Thanks.' It happens that fast, you know. I experienced that. I love seeing a young guy like that. I stayed in his ear. Coach stayed in his ear. [Jeremy] Zuttah and Davin [Joseph] stayed in his ear. He got tossed in that fire, man. It's hard, especially in the middle of the season. It's real tough. You know he wasn't here all camp. So he's still learning. My hat's off to him, man. He came in and played his butt off. He got those penalties, came in the huddle and said, 'My bad,' and bounced back.
Joe: What was the difference [Sunday] being able to run the ball?
Penn: I can't even say, man. In the second half, we came out and opened it up and I think it helped us. You know, we got this win. At halftime people didn't think we were going to get this win and we came out and we were still close enough into the game where we didn't have to pass, pass, pass. You know we got two good backs. It's looking up, man. I keep telling everybody we're working, we just need to get more consistent with the runninggame. We just have to get more consistent. The last couple of games we've been down, so it's hard to get the running game down when you're losing. We got to build off this.
Joe: Talk about LeGarrette Blount and Cadillac Williams.
Penn: I'm proud of Blount. And he's got a great teacher too in Cadillac Williams. You know Cadillac's a vet, and he's a great teacher. He's helping [Blount] every day in practice. He's standing by Cadillac every day in practice and Cadillac is coaching him up and helping him out. We got some veterans and some young guys, but the good thing is the veterans are helping the younger guys and it's starting to show. …We've been making it real hard on Cadillac, you know. I guess today we opened it up a little bit more. I think any running back that would have been back there would have made the same runs [Blount] made, you know, because we opened it up. That's why I say it's all up on the line. We gotta do better.  The last games, I feel bad for Cadillac. A lot of people are on him and on him and it's not Cadillac's fault. Cadillac can't do nothing without us. You know, so we take that responsibility 100 percent.
Joe: You were on the playoff team in 2007, one of the few guys with playoffs experience on the roster. Does this feel like a playoff team?
Penn: Of course. I always have that feeling. I had that feeling last year. …We're just being patient. We're being humble. We're going onto the next week in Arizona. We just have to keep winning, keep winning and keep getting better. You know we can't do this the way we played the first half against another team. It might not go the same way. Luckily, it went our way.
Joe: You lost a lot of weight in the offseason. Do you feel better playing at this weight? And how did you lose the weight? Are there specific foods you gave up? What was the difference?
Penn: I just changed the way I was eating. That was the biggest thing. And I hired a trainer in the offseason. You know I never hired a trainer before. It's hard to do it yourself. It's hard to motivate yourself when you're working out. It's easy in a game when you have something to lose. So I have a trainer that was with me and is there for me. It's working good. I feel great out there. I feel tremendously quicker. And that's the biggest thing I needed.