Derrick Ward Not Committed
October 8th, 2010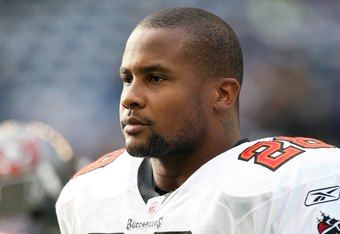 Yesterday Joe passed along word about bitter, delusional Kardashian-chasing running back Derrick Ward, who was stupidly (again) shooting off his mouth that the Bucs are not committed to winning.
Naturally this irritated a lot of Bucs fans but it also seemed to irritate professionals who cover the team as well. At least it seemed with eye-RAH! Kaufman of the Tampa Tribune.
Twittering via the TBO Bucs Twitter feed, Kaufman sounded off on what a hypocrite Ward is.
Derrick Ward has no business questioning Bucs commitment. Ward never seemed fully committed in Tampa once he was shown the money.
That's about the only thing he was committed to doing, cashing his check, oh, and chasing skank Kardashian tail.
Where was this committed Ward when Josh Freeman was working into the wee hours of the mornings in April and May breaking down film with rookie wide receivers Arrelious Benn and Mike Williams?
Apparently, Ward was instead breaking bread. And a lot of it, getting a gut nearly as big as Joe's. Some commitment, coming into training camp overweight.
Where was this committed Ward during most of OTAs when he was mostly MIA?
Typical Ward, everything and everyone else is to blame except the guy staring him in the face in the mirror.
What next, Ward's next bad game — likely his next game — he will still whine about playing on a baseball infield in Miami (which never seemed to slow down Ricky Williams, Ronnie Brown, Kareem Huggins or countless great NFL running backs who regularly played on baseball infields)?
Of all the Kardashians to chase, Ward runs after the worst one.
That seems to Joe about par for the course.
Memo to Ward: The next time the word "Buccaneers" is in your mouth, it ought to be thanking the team for being naive enough to give you a trunkload of cash.
Fraud. An absolute disgrace you wore Warrick Dunn's number.