Bucs Need To Prove Peter King Wrong (Again)
October 27th, 2010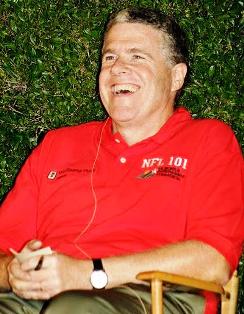 The roller coaster of emotions that coffee-guzzling, popcorn-shoveling, oatmeal-loving Peter King has with the Bucs is exhausting for Joe to monitor.
Prior to the season, King was highly dubious of the Bucs, stating emphatically that the Bucs would win a grand total of two games.
Then the Bucs jumped out to a 2-0 mark and King began singing the praises of the Bucs, hosting Bucs general manager Mark Dominik on "The Opening Drive," heard exclusively on Sirius NFL Radio, waxing poetic about Dominik's skills as a master team builder, going so far as to suggest quarterback Josh Freeman is an NFL offensive MVP candidate.
But then the Bucs got pistol-whipped by the Steelers and seal-clubbed by the Saints, both at home. Now, King has jumped off the bandwagon and, predictably, resumed his slurping of all things Brett Favre, a man King has long found irresistible.
King professed his renewed skepticism of the Bucs in his Monday Morning Quarterback, Tuesday edition mailbag on SI.com, writing as if he was stood up by a lover.
• DON'T SLEEP ON THE BUCS. "You mentioned the Redskins potentially being one of the NFC's best teams, but crazy as it sounds, what about the Bucs? They have a QB who has proven clutch down the stretch and a young defense whose confidence grows each week. Can they make noise in the playoffs?"
–Isaac N., St. Augustine, Fla.

Well, I would like to believe in Josh Freeman and the Bucs as far as being a January factor. But the Bucs have played two good teams this year, the Steelers and Saints, and lost to each by 25 points. So let them win a game against somebody good, and then I'll start to have some faith in the team.
King does make a valid point. The reason why so many people in NFL circles openly scoffed at Raheem Morris' boastful claim that the Bucs were the best team in the NFC was that the Bucs have played two decent teams thus far, and were alley-beaten each time.
The Bucs will need to beat a good team — the Falcons spring to mind — for those across the land to take the Bucs as something more than a fluke; valid or not, accurate or not.