Aqib Talib Is Good; Not Yet Great
October 17th, 2010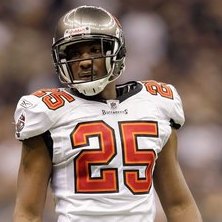 A lot of Bucs followers and watchers — Joe included — thought this would be the year for Aqib Talib. With an uneventful offseason and coming off a 2009 campaign where he was one of the better cornerbacks in the league, many fully expected Talib to establish himself as an elite cornerback.
He's not there… yet.
Talib is good, don't get Joe wrong. He is not yet a star.
We all remember how he bobbled a near-interception in the zone against Pittsburgh that turned into an early Mike Wallace touchdown for the Steelers. Later, Talib had an would-be interception go through his hands on a critical third down play against Pittsburgh on what turned into a Steelers scoring drive.
That nasty near-interception bug bit Talib again today. And it was ugly.
Drew Brees connected with Lance Moore on a 41-yard touchdown that Talib had position on and went for the interception. But his pink-gloved hands were empty and the Saints had six points.
In the aforementioned plays, Talib was not out of position, please do not misunderstand. Talib, instead, went for the big plays and swung and missed each time.
Elite players make big plays. Talib's not.
Not yet.