Zuttah To The Rescue
September 13th, 2010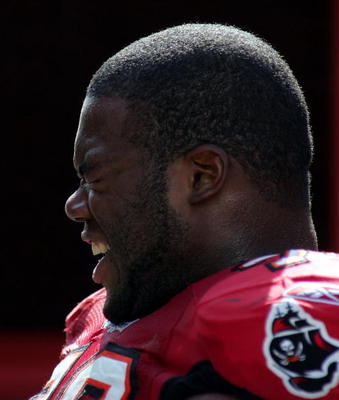 Now Joe took relentless frequent beatings from so many commenters on this website for often defending left guard Jeremy Zuttah's ability and work ethic over his tenure with the Bucs.
And Joe stated it was a mistake to not have him starting in 2010.
In his defense and praise of Zuttah, Joe was quite a lone ranger among Bucs beat writers and pundits. Joe was unhappy that the colorful Pewter fellows all but threw Zuttah under the bus, and Joe constantly pointed out that there was nothing tangible out there from any named Buccaneers source saying why new left guard Keydrick Vincent, 32, was better than the Zuttah.
Joe made the points that if the two of them are of similar talent, then 24-year-old Zuttah should start based on the Bucs' stated rebuilding plan, and that continuity was critical on the line and Zuttah had an advantage in that area.
So it is with a twinkle in his eye that Joe brings news today that the Bucs seem to be close to giving up on Keydrick Vincent as their starting left guard — after one game,  and a third preseason game in which the Bucs couldn't run the ball at all with their first team.
Rick Stroud, of the St. Pete Times, delivers the news, explaining there's been strong interior debate about Zuttah and Vincent in the bowels of One Buc Palace for a while.
Offensive coordinator Greg Olson confirmed today something we heard whispers about more than a week ago:

That the Bucs are still up in the air when it comes to keeping left guard Keydrick Vincent in the lineup on a full-time basis.

Olson said the left guard spot was among the topics in the coaches' morning meeting today, and that the staff is considering using a rotation with Vincent and Jeremy Zuttah, the 2009 starter at the position.
Joe suggests you read Stroud's whole story.
Of course, Joe was hoping Vincent, after he was named starter, would be the physical run blocker the Bucs coveted. But Joe hasn't seen it, and the pocket was not consistently sound yesterday for Josh Freeman.
Vincent was a great pickup by Mark Dominik, but he should be a backup.