Kellen Winslow's Status Looking Grim For Sunday
September 17th, 2010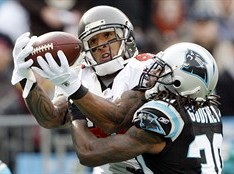 The Bucs should need all their weapons, if they plan on beating the Panthers at Carolina on Sunday. And it appears Bucs quarterback Josh Freeman's favorite weapon may be less than 100 percent, if he even plays at all.
Bucs tight end Kellen Winslow's ugly knee is acting up again. So much so that Winslow has missed practice today. Again.
And it raises a red flag, as reported by eye-RAH! Kaufman of the Tampa Tribune on the TBO Bucs Twitter feed.
For the third consecutive day, Bucs TE Kellen Winslow did not practice. Winslow's chronic knee problems obviously remain a concern.
This is very much a concern. If Winslow missed much of the preseason games because of his knee, and is already missing significant practice before the second game of the season, just exactly how healthy is he going to be come November?
UPDATE: Winslow, as well as Kareem Huggins, are listed as questionable for Sunday's game. Roy Miller has been removed from the injury report.