Sunday, We'll See If Rush Defense Is Good
September 15th, 2010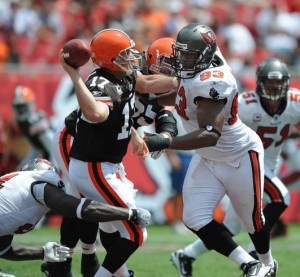 As Joe and just about any Bucs fan who got to watch the game knows, it was a pleasant surprise the way the Bucs' run defense manned up in the second half and controlled the Browns.
Quite possibly the worst area on the Bucs' roster last year was the interior defensive front. Whether that has been solved with rookies Gerald McCoy and Brian Price, well, a lot will be learned this Sunday.
It seems Tampa Tribune Bucs beat writer eye-RAH! Kaufman is of the same mind. He believes how the Bucs defense handles the rugged rushing attack of Carolina will be a robust early test.
Despite tightening up against the run in Sunday's season-opening victory against Cleveland, Tampa Bay's revamped defensive line faces a far different challenge heading to Charlotte, where the Panthers come off a 31-18 road loss to the Giants.

Carolina's ground attack has embarrassed Tampa Bay in each of the past three meetings, averaging 241 yards per game. The barrage began on a Monday night in December, 2008, when the Bucs and Panthers met on national TV in a matchup of 9-3 clubs vying for NFC South supremacy.

The Panthers ran for 299 yards that evening, triggering a shocking 4-game slide that ultimately cost Coach Jon Gruden and GM Bruce Allen their jobs.
How cool would it be if the Bucs were able to stuff the Panthers on their own turn in their own stadium? Yes, a lot of will be learned this weekend. Joe hopes it's not a flunked pop quiz.