Ronde Put It In Low Gear After Pick
September 12th, 2010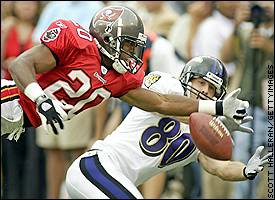 Joe was stunned and saddened to see Ronde Barber stop running hard about 25 yards into his 64-yard interception return late in the first half, which ended at the Browns' 3 yard line and set up the Bucs' first touchdown.
Joe was happy for a brief moment that the game was blacked out. The replay was ugly, showing Barber appearing to quit on the runback, running like a tired D-lineman.
So how was fit Barber unable to run hard on just the fourth play of the Browns' drive and still in the second quarter? Barber explained to the St. Pete Times.
In his younger days, Barber would have taken the interception to the house. This time, he ran out of gas and collapsed in the driveway.

"I'm just not a young man anymore," Barber said. "It was a hot day."
Joe gets that Barber is "not a young man," but it's a bit disconcerting that Barber was gassed so quickly, given his adrenaline must have been flying immediately following his 38th career interception and a shot to get in the end zone. 
Time waits for no man.
Is Barber struggling with his conditioning? Is it just a byproduct of light work in the preseason?
Again, Joe's glad the replay of Barber's return isn't in the minds of most Bucs fans.
Joe, like most, would like to see Barber keep producing and remain the lone link to the Bucs' heyday on the roster for years to come.