Raheem No Fan Of His Wedding Dress Photo
September 7th, 2010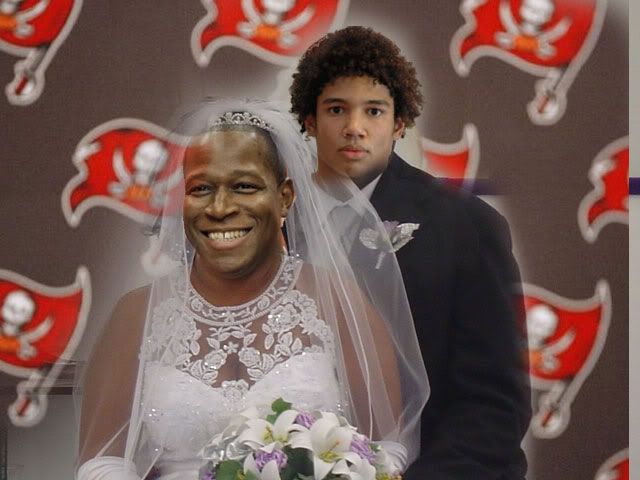 After drafting Josh Freeman, the Bucs' quotable head coach said he was "married" to Freeman for better or worse.
It was an analogy that sparked twisted man-boy love takes from perverse Bucs fans trolling on fan websites. And, of course, a photo emerged to illustrated the nuptials. (Look to your right.)
Now it comes out that Raheem Morris is no fan of this obviously computer-enhanced image, and he says he took steps to make sure it dies a quick cyberspace death.
The Bucs' defensive mastermind/head coach made this clear to the Bucs' beat writers during a news conference on Friday. The coach was asked how bonded he is to his draft class and how he feels about them.
Here's his verbatim response:
"The last two draft classes I am extremely pleased with. You know, that was myself and Mark Dominik's two draft classes. And you gotta be extremely happy or overwhelmed with the production and the amount of contribution they've been able to give to the football team," Morris said. "Just the last two classes. You can go across the board and maybe some guys didn't develop as fast as others, but for the most part you've seen everything you've seen on college tape, and you've seen it translate over to our game and what we do in the National Football League.

"I'm not going to used the term "married" anymore because I don't want anymore website pictures of me with a dress on. So I told myself I wouldn't use that anymore. And [Bucs new media chief Jonathan] Grella … Grella was here for two days that's the first thing he wanted to talk about, me with this marriage outfit. I was thinking, 'Grella, I was just using an analogy out there.'

"But you gotta be extremely pleased with everyone's been able to do from the top to the bottom of the draft class."
Sorry, Coach. Joe forgot about the photo until you reminded the world. Just a tip, if you want something to go away, don't talk about it.