"Raheem Morris Killer" Poised To Attack Again
September 8th, 2010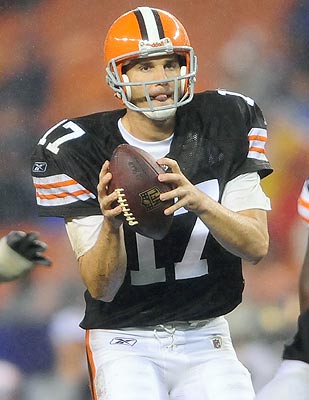 Periodically, Joe misses the forest because the trees get in the way. That's the case with the Browns.
Joe laughed when Browns head honcho Mike Holmgren decided to go after Jake Delhomme as the man to pull the Browns up from the depths of Lake Erie.
But per an article from Tony Grossi of the Cleveland Plain Dealer, Delhomme has been lethal against the Bucs.
During Morris' time with the Bucs, Jake Delhomme, the new Browns' starting quarterback, developed a reputation for beating Tampa Bay while with division rival Carolina. Delhomme won nine of 11 meetings.

"He's the Raheem Morris killer," Morris said at NFL owners meetings in March. "He's broken my heart in a couple different situations at the end of games."

Delhomme's familiarity with Tampa's defense gives the Browns another advantage. Or, as Morris put it this week in Tampa, Fla., "You got to know that he knows that you know that he knows."
This completely slipped Joe's mind: That Delhomme, stiff though he may be, somehow became Terry Bradshaw when facing the Bucs.
This is unsettling to Joe.
[Hat tip Anwar Richardson of the Tampa Tribune.]