McCoy's Growing Pains More Evident In Carolina
September 21st, 2010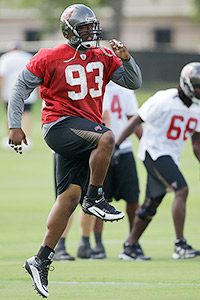 So what the hell actually happened on the Bucs' D-line on Sunday?
Well, as always, former Bucs DE Steve White has that question answered in full detail on his blog. His Xs and Os heavy Bull Rush column now lives over there.
White breaks down all the D-linemen, and here's the take on Gerald McCoy, who White is holding to high standard.
Gerald McCoy: I had mixed feelings watching McCoy yesterday. On the one hand he was productive with two tackles and two assists along with a quarterback pressure. He really played the slip blocks and double teams well in my opinion. And his effort, as always, was outstanding.

But on the other hand I thought he regressed as far as his pass rushing went. Especially when it comes to pass rushing play action on early downs. Too many times I saw him just running right down the middle of guards with no plan on how to get off the block to try to get to the quarterback. And I saw him in wayyy too many K Lang's* against an offensive line that I thought he would dominate. He also came out of a pirate defensive line stunt instead of staying in the gap and he ran what looked to be a pass rush game with another defensive tackle and instead of looping around the opposite side guard where he likely would have gotten a hit on the quarterback, he stopped in the middle of the game and tried to go back the other day.

Obviously those things didn't hurt us too terribly yesterday, but against a better team it will. On the line stunt and the pass rush game the thing he has to know is that although he might not come free if he runs it right its highly likely that someone else will. But conversely when he doesn't go where he is supposed to be, with violent intentions, he will end up in a situation where he isn't in position to make the play and nobody else is either. And when it comes to pass rushing he just has to be ready every play to make a move. Its not like he can't get good pressure with a bull rush, but for a guy that has his kind of skill and quickness that shouldn't be his signature move.

Now I don't want to come down too hard on him because its not like he didn't play well. But I just have seen what he can do now so that's what I expect every week. And in fact that's what that defense is going to need from him every week in order to be special.
Joe was most intrigued by White's takes on Brian Price, who didn't get a lot of snaps on Sunday in Carolina. White believes Price's limited playing time could become an issue.