Look For More Arrelious Benn
September 27th, 2010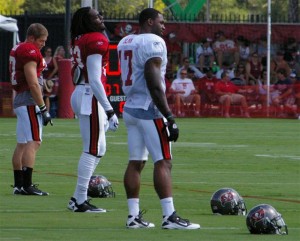 Look for the Bucs rookie receiver snagged in the second round this year to play more against Cincinnati in two weeks.
Asked at his noon news conference today, Raheem Morris talked about more looks for his players "on the come," including Arrelious Benn.
"Would I like to increase Benn's role? Yes," Morris said. "He can certainly help us some more. He's young. He's powerful. He's dynamic."
Benn had three catches, albeit with Troy Polamalu out of the game with the outcome decided. Regardless, he's looks to Joe like an untapped weapon Greg Olson needs to find a way utilize.