JoeBucsFan.com Keeps Soaring; Thank You
September 1st, 2010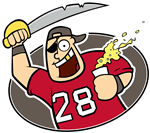 The growth of JoeBucsFan.com seems to have no limit. And Joe just wants to take a moment to thank all of you.
Traffic on these here pages in August was up 50 percent from July, and year-over-year growth checked in at about 375 percent. Considering Joe's traffic was quite strong last year, Joe's not sure what to say. The new JoeBucsFan.com/620 WDAE Message Boards aren't even part of the numbers.
Joe used to publish exact traffic figures, but for the mental health of his competitors and the Bucs front office, Joe's not doing that anymore.
JoeBucsFan.com remains committed to delivering you Bucs news and commentary like no other outlet. And Joe appreciates you bearing with him as he experiments with changes to the site, such as dialing back the use of nicknames. Rest assured, Joe is charting all your feedback.
Thanks again. Tell a friend. Don't forget to check out JoeRaysFan.com. And The Blackout Tour buses are half full, so don't wait too long.